Alky Deisobutanizer Optimization
Analysis of Alky unit DIB exposes design and operating considerations
As refiners strive to increase unit production or accommodate feed composition changes with minimal capital investment, existing equipment design and operations should be evaluated for opportunities to improve efficiency.
In many cases, throughput limitations can be resolved through review and modification of existing equipment design.
A recent examination of an alkylation plant deisobutanizer (DIB) illustrates design and operating considerations that should be addressed when capacity increases and efficiency improvements are desired.
This sulfuric acid alkylation plant had excess feed and reaction zone capacity. The DIB was the limiting factor; specifically, the DIB reboiler duty was at its maximum and the reboiler steam-supply valves were wide open. A new alkylate Rvp specification of 5.0 psia also was constraining operation.
An engineering review suggested minor design modifications and maintenance items which, when implemented, increased alkylate production capacity by more than 25%.
DIB Operation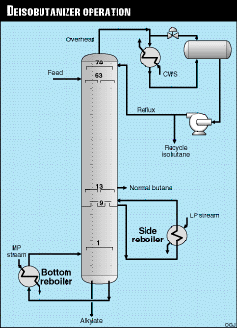 The alkylation unit is fed isobutane and olefinic C4s, which react in a sulfuric acid catalyst to produce C8+ alkylate. In addition to alkylate, the reactor effluent contains excess isobutane, n-butane, and residual olefinic C4s. This stream is sent to the DIB after caustic and water washing.
Figure 1 shows the DIB flow scheme.
The DIB feed is fractionated into three products:
Isobutane in the column overhead is recycled to the alkylation reaction section.
Alkylate in the column bottoms is sent to gasoline blending.
Normal butane is removed in a vapor side draw.
It should be noted that many units utilize a separate debutanizer column to separate n-butane from alkylate.
Table 1 details the DIB operating statistics for this unit. Data representive of initial operation were collected during the winter months.