Refinery RVP Reduction
Refiners match RVP reduction measures to operating problems
Reductions in gasoline vapor pressure specifications have created operational challenges for many refiners. Removal of butanes from gasoline blendstocks has become more critical to meeting product vapor pressure requirements.
Some refiners have made major unit modifications, such as adding alkylation capacity for butane conversion. Others have debottlenecked existing fractionation equipment, thus increasing butane removal.
Three case studies will illustrate vapor pressure reduction solutions. The solutions include: changing unit operating targets, maintaining existing equipment, and debottlenecking minor equipment.
LSR fractionation
One refiner changed the operating targets for its 10,000 b/sd light straight run (LSR) stabilizer to help meet mandated gasoline vapor pressures.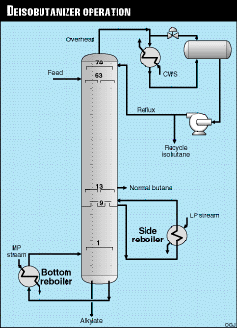 As shown in Figure 1, the stabilizer removed butane and lighter material from the C5+ gasoline blendstock, LSR. The overhead from the LSR stabilizer was sent to a depropanizer. The depropanizer produced an overhead propane product for sale and a normal butane stream which was routed to a Butamer unit for isomerization.
The Butamer unit isomerizes normal butane to isobutane, which is fed to the alkylation unit. The Butamer handles only limited amounts of C5s to prevent catalyst degradation.
To meet gasoline blending requirements, the LSR RVP specification was lowered to 8.5-9.0 psi from 9.0-9.5 psi. The overhead specification for the LSR stabilizer remained minimum C5+.
Case 1 in Table 1 shows typical plant operating data following the specification change.